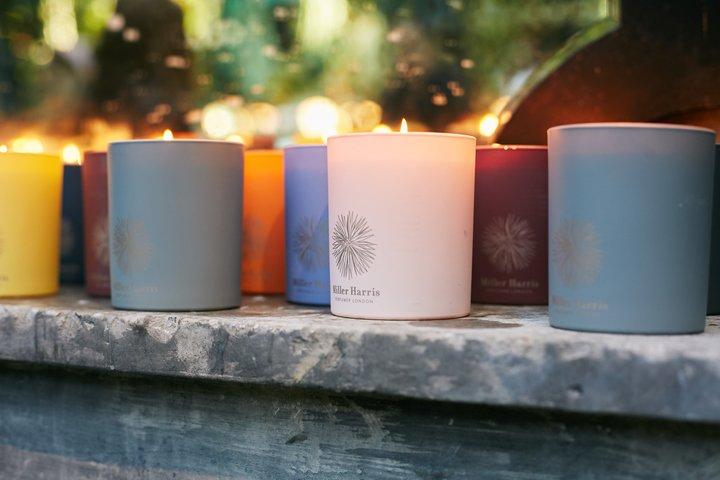 Our fragrance evaluator Jillian Friedman shares her top 10 candle care tips, to ensure you get the very best out of our Luxury Candles.
1. Discovering your candle
The first impression when you take it out of the carton, before you burn, is the cold 'Throw'. The first whiff. The hot throw is a term that signifies how the candle reveals itself when burning, the radius of Miller Harris candles scent can be quite profound, inviting you in to discover more...
What are you in the mood for and where are you?
This is really what determines what I like to burn and when, f
or example;
In the Foyer I like to have a candle which gives a beautiful and clean burst of freshness when I walk in the door. Fresh tea scents like Infusion de Thé or Cassis en Feuille or Wintertide are ideal for creating a great first impression for guests and your family.
In the den or the sitting room during these cold winter months, Garland and Rendezvous Tabac are my favorites, a beautiful nuzzly sandalwood, moss and musky scent and the warmth of a woody tabacco luxurious blend.
In the Study with L'Air de Rien
In my bedroom, Digne de Toi is ideal for a petally, dewy wet and musky rose scent. Or Reine de Nuit for a more romantic and heady white floral scent.
Taking a bath with La Pluie or Tangerine Vert really sends me into a relaxing dreamy exotic place with fresh white Tahitian florals and musks and zesty tangerine notes respectively.
Love a few? Why not layer, to create a mood for your environment, include Reve de Verger for a playful mood with its wet juicy pear and suede note, or a floral mood with Rose en Noir and Digne de Toi, or a fresh and warm match - with La Pluie and Garland.
4. It's all about evolution
The beauty of our candles is the journey they take me on from the top note first impression which nuances fresh, citrus and green aromatic notes, to the heart of the scent with florals and spice, to the base note which lingers longest, the woods, musks and amber notes.
Is the most important to candle health. So initially, burn your candle for at least two hours, so that the top layer of wax can fully melt from edge to edge, preventing a memory ring from being created. In fact it is recommended to burn for one hour per inch of the candle diameter. This will prevent tunnelling and ensure that the wax will melt evenly for the life of the candle.
Trim regularly, so as to ensure optimal burn. The length of the wick corresponds to the burn speed, so keep it maintained to not more than 1/8 inch or 2 millimetres, and CENTER YOUR WICK when the wax is liquid, with each use, so that that it burns symmetrically and doesn't effect the vessel.
Reusing your beautiful Miller Harris holder is encouraged! Hot water and a clean towel will help remove any residue.
Make sure you burn your candle away from any draft or heat source or within reach of children.
It's important to protect not only the precious fragrance oils that create the scent, but also the wax. Temperature and light will affect the odour and color so keep in a cool dry place away from direct sunlight or intense light. No extreme heat or cold to prevent melting or cracking respectively. And if exposed, let the candle sit to room temperature prior to burning and finally, when the wax melts to a half inch, discontinue use to avoid heating the surface it is sitting on.
Wipe off any residue or dust with moist cotton, mild soap and water.
About Our Author
Jillian Friedman has been working with Miller Harris for five years, overseeing the development of all fragrance, bath & body, and candle/diffuser products. With diverse expertise and experience on both the finished goods and supplier sides of the business, she has driven all aspects of product development for leading global beauty companies in both prestige and mass market segments. Jillian's holistic approach is both strategic and instinctual. She is known for her strong design aesthetic, eye for commerciality, and understanding of global olfactive taste.