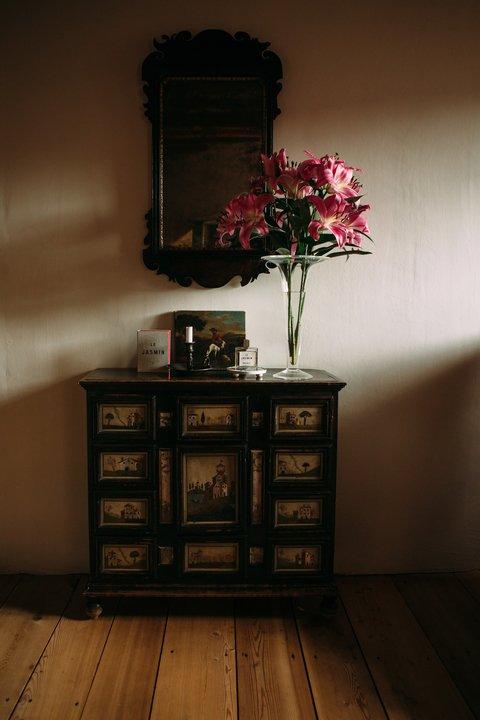 Stillness & Curation: On Location With Miller Harris At Lamb's House in Edinburgh
Freelancing is fun and fraught, freedom and the occasional panic about where the next job might be coming from. I spend most of my time shuttered away with flowers, watching them decay and photographing them, so I welcome a Creative Art Director opportunity to see into rooms, lives and houses that more often than not are closed and private.
I usually work with my friend Laura Meek, an extraordinary photographer who I've collaborated with now on a number of projects for Miller Harris. We have a great dynamic and understand instinctively how the other functions. Laura works with natural light so the locations require particular levels of luminescence. Edinburgh light has a unique northern translucency that bathes the city, reflecting off the city stones and pouring into residences with a transient quality.
Through Laura's connections we gained access to Lamb's House, a beautifully restored Hanseatic Merchant's house in Edinburgh's Port of Leith. Built in 1610 and reputed to have once been graced by the presence of Mary Queen Of Scots, this building has been artfully and respectfully renovated by Groves-Raines Architects Ltd whose practice is part of a newly created adjunct to the house. Nick Groves-Raines runs the award winning architectural practice with his wife Kristin Hannesdottir, known as Limma who is also the Icelandic consul in Edinburgh and an acclaimed painter.
The goal of shoots like this is to strike a balance between marketing the perfumes and brand whilst at the same time suggesting a lifestyle and sense of daily aspirational conduct where Miller Harris is a part of something subtle, inhabited, luxurious and moreish. There were a few house rules, shoes off in the Pavilion, leave the place as we found it and no spraying of scent in certain rooms in Lamb's House, but otherwise the Groves-Raines family was very courteous and let us work uninterrupted.
The late seventeenth century style Pavilion has a special character all of its own, delicate and hushed, something I value hugely in rooms and spaces. The palette of oxblood, hunting green, peacock blue, yellows and soothing eggwash tempura pastels furnish an immensely peaceful and accurate ambience. The Pavilion has all mod cons as befitting the demands of a very high-end rental property but these things either meld seamlessly or add perfect oddity to the mix of fine period furniture that gives the rooms such character. The thing you cannot buy is the subtlety of patina; the hushed wear and tear of age and Lamb's Pavilion exhales faded luxury without ever over-reaching.
There was a quiet blue bedroom on the second floor, the blue a cooling periwinkle that spoke of winter sea. As soon as you entered the room, the soothing effect on your eyes and overall senses was almost instantaneous. It was quite astonishing. I suffer from severe migraines and this pale blue cocoon felt instantly calming and consoling. The whole house had this curiously reassuring effect and as we moved from room to room working on set-ups curating with objects that instinctively felt right the more the products seemed at home in the elegantly appointed apartments. I am still thinking about the claret red walls of the octagonal staircase that wound their way up the floors with its smooth thick rope handle to cling to.
I felt the impact of Lamb's House quite viscerally; aware we were being allowed to shoot in a family home with a unique entwining of personal histories and working practices.
We entered through a heavy medieval wood and iron door and up spiralling stone steps pierced with stained glass windows. A delicate chainmail tunic hung on the bannister. Rather than seem affected, it just seemed normal.
The rooms were awash with personality, a mix of practicality and casually precise curation. The antique objets, family history and curiosities were reflective of a family with searching minds, eyes of travellers and souls of searchers. I don't really trust homes without books if I'm really honest; they are things that make me feel profoundly secure. Lamb's House is full of books, shelves groaning with tomes and the accumulated collectibles of extended family. It is hard to tell how curated these are, I'm guessing not so much, just arranged and moved a little to suit light, colour and someone's eye in passing.
I don't want to intrude on a family's life by detailing objects in the house, but I want to mention a couple of impressions. We had one main collection to shoot in Lamb's House, The Perfumer's Library, an anthology of four perfumes built around classic perfumery notes such as jasmine, tuberose, cedar and blackcurrant. There were also a couple of rogue bottles from the morning we wanted to look at again. One of them was L'Air de Rien; my signature Miller Harris scent, originally created for Jane Birkin to capture the essence of something lost that would come alive again in the notes woven together by perfumer Lynn Harris.
In a reception room there was the most amazing collection of glassware on top of a bureau. The glasses, coupes, bowls, flutes and snifters were arranged like a glowing low-lit chess set, each piece carefully placed to catch the xanthous light pouring off a lamp. Above the pieces was a large painting by Limma of a glass, the scale of which loomed over the display. I placed a bottle of Noix de Tubereuse among the flickering stems and cups and we had a plush light-flooded image that looks magical.
Then there was Limma's studio higher up the building, past the warm red-hued guest bedroom with an old wooden four-poster bed, architectural models, books and a rich tumble of ancestor portraits. As soon as we stepped into the studio, the air dancing with that particular Edinburgh winter light, I felt so calm and just a little haunted such was the weight of absence in the room. Amid a fascinating archive of incomplete chairs and gilt frames were ornate wire bird cages, oversize wooden letters, including a fanciful X that looked beautiful in our photographs, more architectural models, a gothic arched cabinet crammed with art books, Limma's easel, set up with a work in progress, a painting of a delicate grey mortar bowl and finally, drenched in sunlight was a worn proud chair with her white painting smock draped over it.
It was a strange feeling being in the space, a little drunk on the light; aware it was a working studio. On the other hand, the room felt haunted, as if the painter had walked out of the room over a century ago, displeased with something and never returned. It was just the most perfect place I could imagine shooting L'Air de Rien, an intensely enigmatic scent that defiantly resists decoding. When Laura sent me the photo edits and I opened these images of L'Air De Rien hit by sunlight on the smock, I gasped.
We could have photographed for days in Lamb's House, the place is a treasure trove of vignettes and objects, but we were aware of how personal so much of the house was and didn't want to cross lines. I know the Miller Harris perfumes well, I wear them all the time, not because I have to, but because I've been wearing them since Lynn Harris started the company back in 2000 and I love them. Things have changed but the quality and dedication to innovation and difference remains under the passionate guidance of CEO Sarah Rotheram. I hope this collection of images, setting some of the most beautiful and iconic Miller Harris fragrances in such a unique location will enhance and add a certain mystery to the perfumes, a mix of the curious amid a crazy modern world, bliss and classicism amid modern city renovation and freedom.
Alex Musgrave
Many thanks to Groves-Raines Architects Ltd for access to Lamb's House and Pavilion and to Dieny Itoe at Custom Lane for facilitating this. Thank you on the day for kindness, information and support from Nikki Jowett, Groves-Raines Office Manager and Marie Murphy, Marketing Manager. Big Love to Kasia our shoot assistant, thank you, you made things a lot easier.
The Pavilion At Lamb's House
Lamb's House
11 Water's Close
Edinburgh
EH6 6RB
The Pavilion is available for short-term rent, and accommodates six guests over three bedrooms. For further information please visit the website: