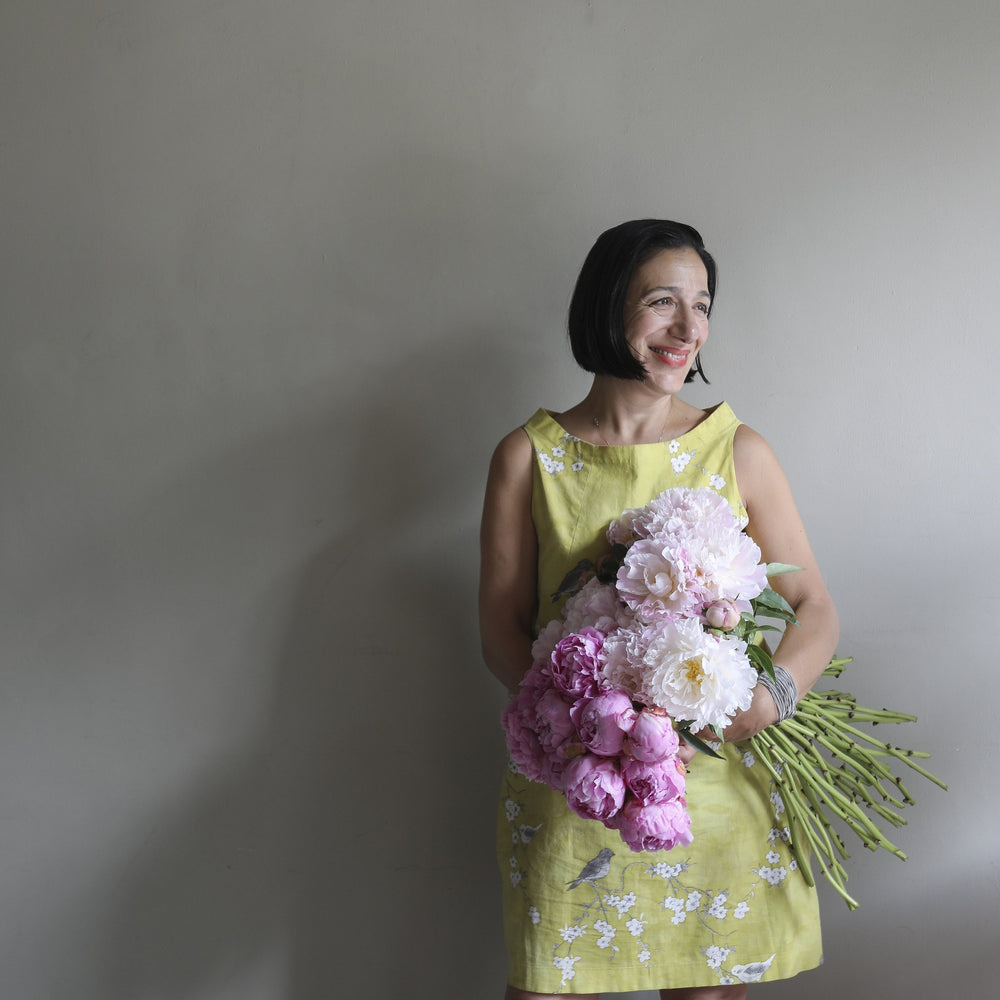 International Women's Day - Kally Ellis, Founder of McQueens Flowers
When Kally Ellis set up McQueens in 1991,she had one aim in mind.
"I wanted to sell simple, stylish flowers, beautifully presented, to the London market. And I knew people would love it."
Kally drew on her business experience working in the marketing team of a large international French merchant bank. With a strong sense of colour and design, and a genuine passion for flowers, it has proved to be a winning combination, establishing McQueens as the premier name in the UK flower market – and beyond.
"It never fails to surprise me when we receive calls about our flowers from Hollywood and Japan," says Kally. "It's amazing to think that from a small shop in Shoreditch, we've built a reputation for quality and innovation that's known the world over. Yes, I'm very proud of what we've achieved. We have so much more to achieve and so much to celebrate!"
Kally, what three words best describe you?
CEO of McQueens
Could you tell us how
McQueens
started?
I woke up one morning feeling happy and exhilarated; I'd had a particularly vivid dream that I was running my own flower shop. At the time I was working in the City for a French bank. I spent the next few months making that dream a reality.


What is your wish for
McQueens
?
To create simple, stylish and beautiful flower designs. That our works connects with people on all kinds of levels - creative, emotional, visceral - is always a bonus.


What does it mean to be a woman today?
For me, it's the freedom for us to do whatever we want. There should be no barriers for women to achieve what we want in life. We must never settle for second best.


The campaign for this International Women's Day is #
Balanceforbetter
, what steps do we all need to take to see a more gender-balanced world?
To change attitudes, we need to start with ourselves. Challenge your own decisions and attitudes to gender and roles. So much of what we do happens through lazy thinking. Ask yourself; is that fair, is that right? If it isn't, don't be afraid to admit it.


What i
s the best piece of advice you've ever been given?
Get good financial advice. So many creative businesses fail because the companies trust that their creative talents will be enough. Any business needs a sound financial basis to succeed, and that will allow the creative team the freedom to grow.
What
piece of advice would you like to give to young girls
?
Don't let anyone tell you 'you can't'. You can. I started my business during a recession, and friends told me I was crazy. But I knew that energy and determination would see me through. Rely on yourself - you can make it happen.
If you could pick any woman in history to talk to, who would you pick?
I think Frida Kahlo was an extraordinary woman. She had so many disadvantages and disappointments in life, but she never let that limit her creative talents. She's a true innovator.
You're hosting a dinner party for your female idols –
who'
s at the top of your guest list?
Victoria Wood. We all need laughter in our lives and Victoria paved the way for so many women in comedy. She was a true trailblazer who led by example, not empty words.


Where is your oasis in the city?
Hampstead Heath. It's where we walk Ted, our Bedlington terrier. It's a bit of the countryside right here in the city, and it's a very special place.
Where
is the most unusual place you've found inspiration?
I
find inspiration everywhere
–
art galleries, junk shops, flea markets, my brilliant team
–
you can take inspiration from anywhere and everywhere!


McQueens
began as a small shop in Shoreditch
, what is your earliest memory of London?

I grew up in London, Tufnell Park and have never moved! I think my earliest memory is growing up in North London.


Is there a smell that holds significance to you
?

My mother has green fingers, and growing up, our garden was full of wonderful flowers that she nurtured and loved. I adore the scent of lily of the valley that she grew beneath a walnut tree at our family home in Tufnell Park. It's such a sweet, evocative fragrance for me now - it takes me back to my childhood in an instant.
What do you want a fragrance to express about you?
I want it to suggest rather than inform. I think fragrance needs to retain an air of mystery to make it truly compelling. Perfumes that adapt and complement rather than simply overpowering are so much more attractive to me.


The McQueens Flower School celebrates its 21st anniversary this year and we set up McQueens New York at the tail end of last year and the beautiful candle range that we have collaborated with Miller Harris launches next month.


Take a look at McQueens Flowers here.