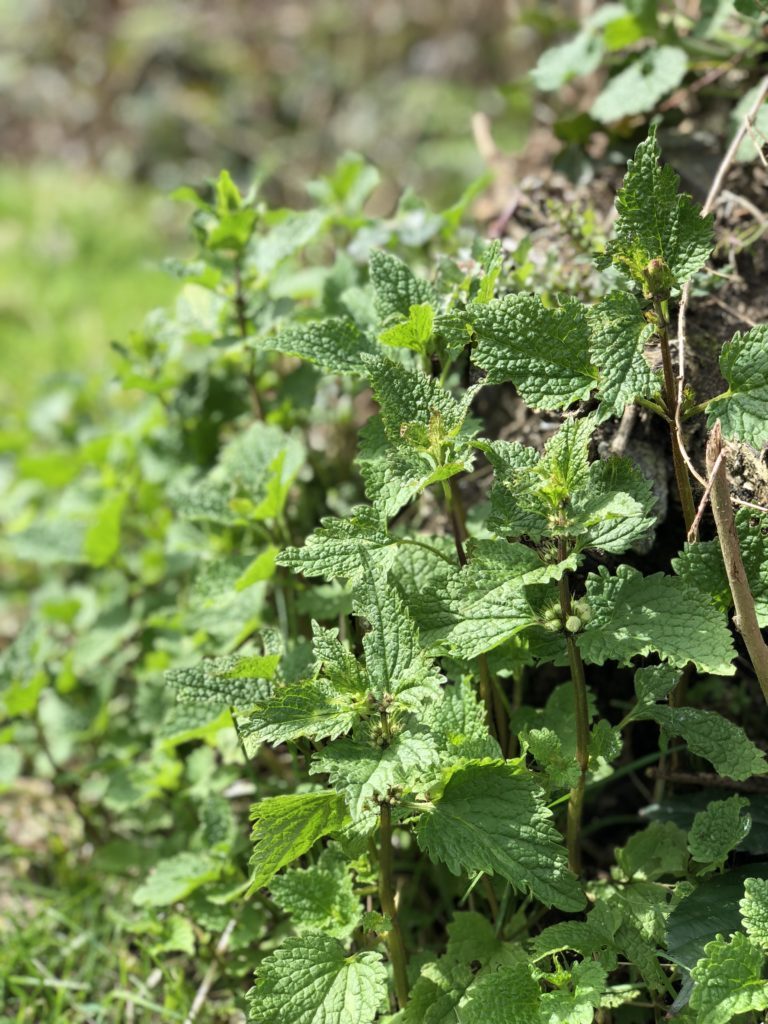 Writer Viola Levy enlists her nature-loving dad to help her on her first foraging quest…
On the surface, my dad and I don't have heaps in common. I spend my days writing about beauty products – he's spent his career working with mental health patients for the increasingly underfunded NHS. He's grown up in the countryside, I've lived mostly in the city and rarely venture beyond the M25 if I can help it.
Saying that, I'm not a complete "nature-phobe". I find short walks in the park a great way to relieve stress (never having been a fan of meditation or any form of sitting still). But not having a good working knowledge of plants and trees, I've never taken much interest in green surroundings – aside from the perfume ingredients I write about as part of my job. But the idea of foraging caught my attention - allowing you to explore and engage with nature on a rather primitive level, and hopefully feeling "at one with Mother Earth" in the process. And I was relieved to discover I didn't need to leave my beloved Zone 2 to do it.
Reading about urban foraging made me realise that the city and countryside aren't as binary as everyone thinks. In his book The Edible City – A Year Of Wild Food, John Rensten highlights many edible wild plants to be found in among the crowded concrete cityscape. In this spirit, I decide to head out on an urban forage myself, enlisting my long-suffering father for guidance and a way of reassuring him that his efforts to get me interested in nature weren't completely in vain.
Since as long as I can remember, dad has been trying to instil in me a love of the great outdoors. My parents were separated, but every other weekend that I'd stay with him, Dad would take me on long walks in London's Alexandra Park, encouraging me to identify different flora and fauna we found there, despite my many protestations that I'd rather be indoors watching Live and Kicking.
I remember my mother's horror on discovering that he'd taken 8-year-old me bathing in Hampstead Heath pond - and spent the ensuing months convinced that my swimming costume smelled of duck shit. And Dad's one failed attempt at inviting me blackberry picking, resulted in my having a bout of nausea (after I was unwisely entrusted to keep the bowl of berries safe on my lap for the car journey home).
Visiting my paternal grandmother in rural Winchester, walking was our main way of passing the time. To my mind, "going on a walk" should include an eventual destination otherwise what was the point? So sadly, while my granny was alive, she knew me as a predominantly sullen and uncooperative grandchild. Hopefully, with my newfound interest in foraging 25 years on, dad wouldn't be left with the same impression.
Before we head off, I phone up John for some final words of advice. He tells me he initially started foraging as a way to de-stress from his job as a commercial photographer. "It's nice finding the city where you live is actually a lot more green than grey. In fact in terms of plant life, there's more diversity in any London park than you have in any half of square mile of countryside."
"As London's a micro-climate, everything has extended growing seasons, with lot of wild plants that aren't bothered that it's a city," he continues. "It's warmer here, that's all they care about. You also have a lot more feral plants that have escaped people's gardens. You throw all that together and London is actually 47% open and green spaces. We tend to think it's a big blob of grey surrounded by green, but it's more like inter-locking tendrils of green and grey."
In terms of location, we've earmarked Hampstead Heath and Kenwood, but John also recommends checking out places closer to home, such as Islington Nature Reserve. "The lemon balm there smells extraordinary." He also recommends Clissold Park, a place where I grew up and still live nearby. "Behind the big house to the rear is a twisted, gnarly old mulberry tree – it's even got a label on it. Around August it produces fruit looks like blackberries that are gobsmackingly delicious…"
He also advises taking care when foraging for mushrooms, as obviously there are many poisonous varieties. And to avoid places like Victorian cemeteries, where the ground is likely to contain high amounts of lead and arsenic. In The Edible City he offers a few further safety tips which include no nibbling as you go along and always washing what you collect. However, as a side-note John is at pains to point out, "There is so much rubbish in the foods we eat, harmful oestrogens in more packaging, pollution in the air, and a huge culture of drink, drugs and general stress in our cities that I see no harm in eating a few plants from one's local park." I can see his point. However, he also suggests that it's advisable for beginners to go foraging with someone experienced in the practise, or a good guidebook, but to not eat anything you find to start with. So for this first expedition, Dad and I have decided we're looking and sniffing but not taking handfuls of freshly picked loot home to toss in a salad just yet.
I meet dad in Kentish Town just after rush hour, struggling to find him among the throng of commuters, road workers and the odd punk rocker walking his dogs. Amid the din, I spot my father raring to go, armed with his A-Level Botany book from 1964 and printouts of various wild mushrooms we might encounter. Dad asks if I've done any homework myself ("preparation is 90% of success" he reminds me). I hastily get my phone out to look up the The Woodland Trust's foraging guide (woodlandtrust.org.uk) as dad drives us up to the 'Heath and we begin our foraging excursion.
It's incredibly peaceful walking through the forest, listening to birds chatter and inhaling smells of leaf litter, earth and bark. I'm reminded of the Japanese practise of Shinrin-yoku or "forest bathing" which champions the healing benefits of simply taking in the sights and sounds of the forest, which is apparently good for reducing stress and blood pressure.
I've been walking through here before, but never interacted with my surroundings on such a close up level – which makes the walk all the more interesting. Rather than sticking to the footpaths as we normally would, dad and I peer into hedgerows, sift through long blades of grass and nose around fallen tree stumps, investigating the many plants and creatures that have set up home there.
The notorious hurricane that struck The Heath in 1987 caused a lot of debris, which had a knock-on effect where wildlife was concerned. "The fallen trees allowed a lot more light to come in," Dad explains, "which means more plant-life could thrive, while insects set up home in the nooks and crannies of these tree trunks and branches. And then the birds could snack on them."
It's interesting to see which plants and fungi prefer which terrains. A patch of lusciously yellow marsh marigolds pop up from a boggy ditch, while a birch polypore mushroom appears happily snuggled to the trunk of a tree. We're careful to avoid picking anything from the base of trees; a common spot for animals to relieve themselves, the plants there tend to thrive on the nitrogen levels in the urine. But John had advised me that anything high up (basically, beyond an animal's peeing radius) should be more or less ok.
We come across many common plants the Woodland Trust guide lists for April to look out for. Bramble leaves are a common one – its spicy leaves can be used for garnishing a salad, Dad explains that they can be also steamed in hot water and used for a sore throat.
"Have a sniff at this!" he exclaims, clearly in his element, crushing a leaf of Wild Garlic (another common April plant) under my nose, which emits a wonderfully pungent aroma. The Woodland Trust advises these leaves taste great blended with lemon juice and toasted pine nuts as a pesto sauce. They have also long been treasured in folklore for their ability to ward off vampires and evil spirits. (Good to know.) We also share enthusiasm for the scent of horse parsley, which is slightly smoky and bitter – their stems are said to taste similar to actual parsley and can be sautéd and seasoned with black pepper to bring out the flavour.
When we're not foraging, we're having fun exploring the park's many historical artefacts. The pair of us peek through a musty window of an old locked bath house, and read with amusement an information plaque about The Dairy at Kenwood. The building was originally built in the 1700s as a pet project for The 2nd Earl's wife Louisa, 'hobby dairies' and other pastoral activities being a fashionable way for Georgian aristocrats to pass the time (one might even draw parallels with today's well-heeled "wellness gurus" of Instagram).
Just when I've decided this father-daughter bonding experiment has been a success, there are are a few hiccups. Particularly when my lack of woodland knowledge becomes all too apparent. My main blunder is momentarily equating soil humus with the chickpea dip commonly enjoyed with carrot sticks (Dad is not amused).
"Are these magnolia buds?" I tentatively ask inspecting a tree, about to rattle off a recipe for magnolia petal cocktails…
"No!" comes the abrupt reply, as if the mere suggestion was an offense to humanity.
But by and large it's a successful afternoon and a nice chance for us to spend time together. I hate to admit to having adopted an attitude of being "very busy and important" when the prospect of hanging out with parents presents itself. But spending time with them is what's important, especially when I think back to visiting my granny, wishing I could have appreciated those weekends with her a bit more.
As enlightening these musing are, as the hours press on, I revert from enthusiastic nature-lover, back to being a grumpy 8 year old, getting dragged by her well-meaning father on never-ending walks. I collapse on a nearby bench in a huff, while dad is forging on ahead, inspecting foxgloves growing on a nearby wall and
showing no signs of slowing down. "Tired already?" he asks, clearly the same not being true of himself. "I take it this route leads us back to the car?" I enquire, in-between puffs of breath as I catch up to him. Clearly, I need to up my fitness levels for next time.