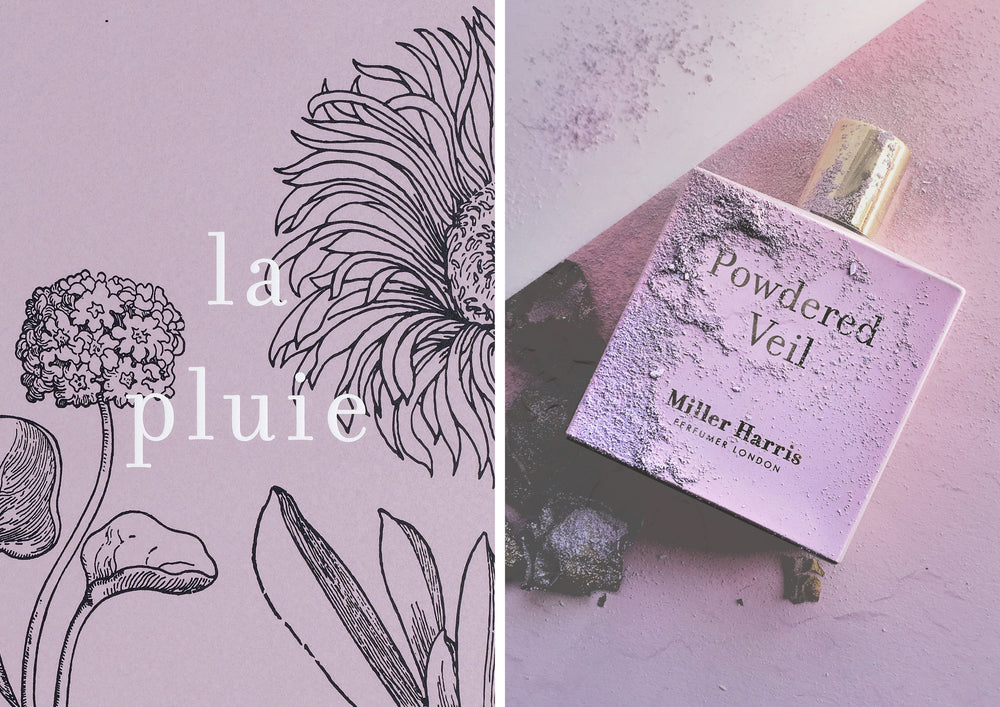 Out with the old, in with the new...
As a perfumer founded in 2000, we've created lots of fragrances over the years. But because we are a small business, it's impossible to keep all of those fragrances in production. From time to time we reproduce a selection of our most requested discontinued favourites as limited editions, but we are always asked for alternatives from our collection.


Fleur Oriental
Originally launched in 2000, Fleur Oriental is an Amber-y floral, with soft powdery aspects. Fans of Fleur Oriental might find themselves drawn to the delicate, gossamer softness of Powdered Veil, with its blend of amber, orchid, transparent florals, musk, and powdery effects. You could also try Violet Ida or La Fumée.


Geranium Bourbon
All about rain on a summer garden, Geranium Bourbon was lush and slightly floral. We recommend you try out LOST – a bright geranium note which hovers between sweet-fruity-floral and sharp-green, much like Geranium Bourbon did. If you preferred the rose character that geranium has, then try Rose Silence, or for more greens, try WANDER.


Jasmin Vert
As the name suggests, it's a green fragrance with a touch of white floralcy. Our suggestion for lovers of this classic is Le Jasmin – crisp, luminous citrus, lush green and herbal notes including rosemary, and a slightly mossy drydown make it the perfect alternative. If you want to amp up the floral element, then we suggest the slightly green and powdery Noix de Tuberéuse.


Fleur du Matin
A delicate blend of bright white florals and brisk green effects, Fleur du Matin lovers should try the magical HIDDEN. Capturing a rooftop garden, surrounded by privet hedges and blooming with honeysuckle, HIDDEN is a wonder. We would also suggest trying Le Jasmin or WANDER.
Coeur de Fleur
All about mimosa and an orris-like drydown, Coeur de Fleur was a green-powdery floral with a very classic edge. Nowadays, we'd suggest HIDDEN as an alternative for its pollen-like use of mimosa, Violet Ida for the softness of iris or the leathery-sweet Étui Noir.


Fleurs de Sel
Fleurs de Sel was inspired by crystalline salt drying on the sand. Vetiver Insolent captures the varied Haitian landscape and richness of vetiver, but also has a slightly salty, crystalline aspect to it owing to the focus on vetiver roots – which have an earthy-woody facet. If you wanted something less earthy, perhaps give Le Cèdre a sniff.


Note de Peau
One of the less requested and definitely one of the slightly more elusive fragrances is Note de Peau, a soft skin-scent. If you loved Note de Peau, then we'd suggest Peau Santal – the sweet sandalwood note, softly powdery and musky with a come-closer-for-a-sniff quality, really capture the same mood as Note de Peau. Powdered Veil also offers that character, but is a softer option.
Le Petit Grain
A fragrance inspired by the orange tree, Le Petit Grain was very green and had a bright neroli note. Lumière Dorée works brilliantly as an alternative, a modern twist on the orange tree but with sunlight streaming through the leaves and warming the skin. Alternatively, for more of the green aspect, you could try WANDER.


Tangerine Vert
Fruity and sweet, yet floral and light, Tangerine Vert lays somewhere between Lumière Dorée with its orange blossom brightness, the zesty cocktail of Citron Citron and the sparkling freshness of Tea Tonique.


Figue Amere
Sweet figs, bright greens, salty sea air – Figue Amére was pretty unique. But either L'Eau Magnetic, which captures the feeling of standing on a beach and looking out upon endless blue skies and seas, or LOST, which will fix that craving for sweet fruitiness through rhubarb and cassis.


Rose en Noir
A dark, voluptuous Turkish rose, which shares a lot of ground with our other Turkish rose fragrance, La Fumée Ottoman – full of spice, amber and that velvet richness that you so loved in Rose en Noir, yet with more red petals. For a lighter rose, try Cœur de Jardin, and for a sweeter, slightly oud-like rose, Scherzo.


La Pluie
Capturing the sun warming up dew on white flowers just after a tropical rainstorm, La Pluie was delicately powdery and floral, making Powdered Veil, with its exotic floralcy and soft, cosy base the perfect alternative.
Terre d'Iris
Ultimately a chypre fragrance, based all around iris and the fields they grow in, Terre d'Iris was dry and crisp. Violet Ida has much of the iris character, with its earthiness, leather-y aspect, and plush powder, whereas Citron Citron has the requisite crisp-dry character, or Feuilles de Tabac for the herbal richness.



Terre de Bois
Dry, crisp, cool and fresh – like a summers day in a forest. For fans of Terre de Bois, we suggest Tea Tonique for the freshness, Vetiver Insolent for the earthy, forest floor side, or Le Jasmin for the crisp and dry side of the scent.