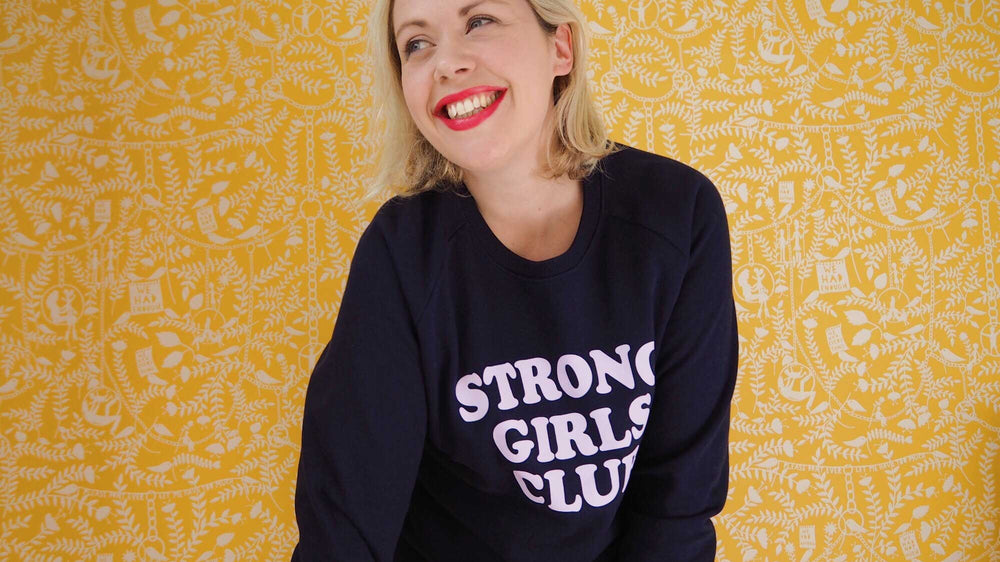 An interview with Mutha Hood
Can you introduce yourself…
Hi, my name's Gemma and I'm the founder of the Strong Girls Club. I run an online store and community called Mutha.Hood and by the power of Instagram myself, along with those that follow me, have built a wonderful space in which we celebrate our strength. I sell tees and accessories that spread the message further.
Three words to describe you?
Strength In Weakness
What made you take the brave step into starting your own business?
The birth of my second glorious Red Head wasn't easy. It was traumatic and led to a very surprising dose of PTSD. I say surprising, because I had no idea this was even something you could get from having a baby. During treatment for that I realised that true strength doesn't necessarily mean being the strongest in the room; but that challenging times and the way you respond to those can really be a true definition of strength. I found a wonderful community on Instagram, and I wanted to share my story and help others. I had worked in Fashion Buying, briefly, before I had my girls and I hoped that by using that experience I could spread the message further.
What's your favourite thing of your job?
Oh there are so many. I love the people that I get to talk to, the way they share and connect with not just me, but with each other. Friendships have been formed over a love of the Strong Girls Club and nothing make me happier. I love that my job extends into the conversations that I have with my children; how it encourages them to see their own potential, and believe in their self worth. I love that I've created a job that I'm passionate about, but that also works around their day; that I'm running my business, but that I'm also there to do school pick and drop off every day.
What's the hardest thing about your job?
I think so many people will say the same and not necessarily just those running their own business. I am a self-confessed Completer/Finisher. I don't like To-Do lists, I love It's-Done lists and I think that because this business is mine and mine alone then there's no one telling you to slow down; so I don't. I just keep swimming, as Dory would say, but doing so every night until the early hours isn't the best for one's eye-bags.
What's the best piece of advice you've ever been given that you will be passing onto your children?
Apart from encouraging them to always believe in themselves I really want to teach them how easy it is to romanticise regret. It's easier to not try something, than to try it, but that often leads to a romantic notion of what-ifs, and missed opportunities. I'm very much of the belief that trying is better than not, and that very rarely you can regret at least giving something a go... unless it's water zorbing and I'll happily speak from experience that said activity is definitely not my favourite.
Our Blousy campaign champions women in all their strength and beauty. What does being Blousy mean to you?
To me it's about owning your space. Entering a room and knowing that you deserve that seat at that table. Don't ever listen to your Imposter Syndrome Gremlin, more often than not what he speaks is words that noone else thinks.
You're hosting a dinner party, who's on the guest list?
Now, is this a laminated list? Because all of a sudden I feel serious pressure if that's the case! I would say Sharon Horgan, Michelle Obama, Kate T.Parker (author of Strong is the New Pretty,) Nadyia Hussain, Lewis Capaldi, David Walliams, Jeff Goldblum.
If you could only read one book for the rest of your life, what would it be?
Avocado Baby
How would you describe your personal style?
Like an eclectic unicorn magpie rainbow. I'm a giant. I am 6'3" tall which is unusual for a lady, and it's taken me years to accept and embrace that; to stop the urge to dress in black and to hide from the fact that I'm quite obvious when I walk into the room. I try and set a good example to my girls. When I look in the mirror I make sure I'm not criticising my body. Equally I now wear what I want to because I don't want them to ever hide themselves either. I'm trying to set the example that I would like them to follow.
What three items do you always carry in your handbag?
Phone, Emergency snacks (H-Anger is very real in our family), Wallet.
What is one thing everyone should do when in London?
Visit the Liberty of London haberdashery department.
Is there a smell that holds significance to you or reminds you of a particular point in your life?
Lavender will always be special to me. I went to a beautiful school when I was younger; a school that did more for me than they know and the gardens were filled with Lavender. It was a really happy time just running past those bushes; I felt safe.
If your life was a fragrance what would it be called?
Rainbow Explosion. (WARNING: May contain serious joy)