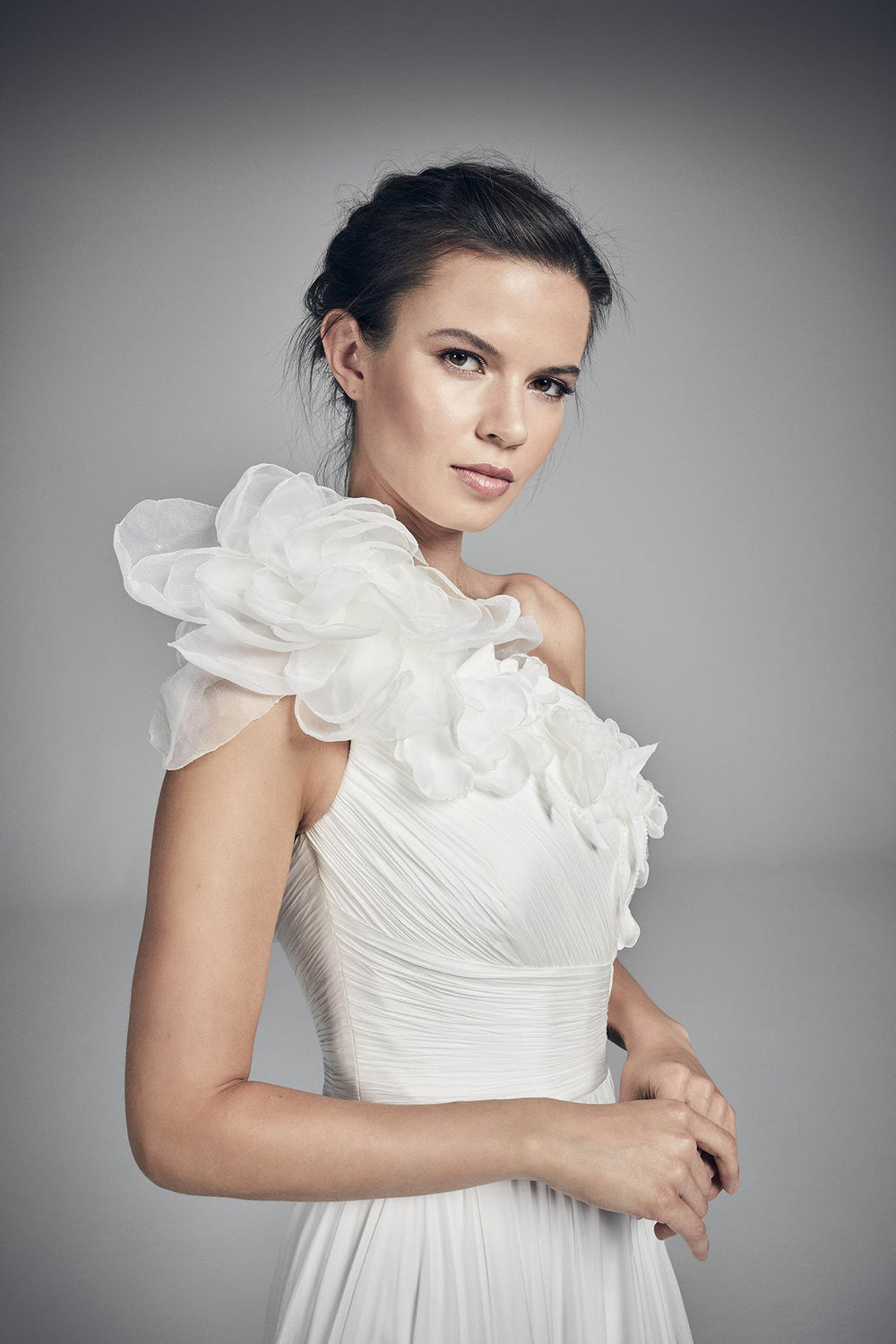 Miller Harris meets Suzanne Neville - New York Bridal Week
Through our scents we like to tell stories. Whether it's writing your identity with a signature scent or transporting you back to a special day, our fragrances create scented memories that last a lifetime.
We recently teamed up with luxury British Designer, Suzanne Neville, to scent her beautiful 2020 Flores Collection at New York Bridal Week with our new white floral fragrance, Secret Gardenia. We catch-up with Suzanne Neville to find out more about her latest collection.
Can you introduce yourself?
Hello, my name is Suzanne Neville. I design and make wedding dresses and evening gowns. The company is in its 29th year and we are very proud to be the biggest selling British made bridal company in the UK.
What made you want to start designing wedding dresses?
I love the creativity involved in designing Wedding dresses. Making every bride feel amazing by taking their vision and bringing it to life, really is a dream job.
What does the 2020 bride look like to you?
The 2020 bride is sleek and modern, with a less is more feel. I think this coming year we'll see lots of clean lines with minimal detail and statement cuts.
In three words describe the Suzanne Neville Bride
Independent, feminine, timeless
What has been your career highlight?
This is a hard question to answer as I am very lucky and fortunate to have so many highlights throughout my career. All of which signal different milestones at different times. Currently I would say creating outfits for Little Mix's world tour. I was recently commissioned to make outfits for all four of the girls, and I enjoyed working with them immensely. They are very hard working and it was a pleasure to create them four very different but matching outfits for their tour.
Where do you draw inspiration from when designing a new collection?
I'm always inspired by the brides themselves. I do work very closely with my team and see as many brides as I can. I listen to them, to see what they are wanting and how I can adapt that into a new design.
How important is scent to the modern-day bride?
Hugely important, I think the scent a Bride chooses for her wedding day will forever evoke the wonderful memories of the day.
What would be your best advice for any bride trying to find that dream wedding attire?
My advice would be to stay true to yourself. You should feel like the best version of yourself.
Your boutique is based in Knightsbridge London, how does LONDON inspire your designs?
London inspires me everyday, its such a vibrant city I'll never get bored of it.
And finally, who are your bridal icons?
Carolyn Bessette is one of my favourite all time brides, the effortless style of her look is so timeless. Some of my more recent favourite bridal Icons are Poppy Delevingne (both dresses) and Olivia Palermo for their originality.
You can view the full Suzanne Neville Collection here.
COMPETITION TIME
Want to win your 'Something New'?
For the chance to win our newest fragrance, Secret Gardenia, all you have to do is head over to our Instagram, follow both @millerharris and @suzanneneville, like both posts and comment what smell reminds you of a special day!

This giveaway will run until 11pm GMT on Thursday 24/10/19 and two winners will be announced within 48 hours. Winner must fulfil all entry criteria. UK delivery only. Good luck!